Strange Bedfellows Cocktail Kit
From Drinks Lab Spirit Experiments 
The perfect kit to create your unique twist on the classic Old Fashioned.Set contains everything to make our special twist on the old fashioned with;
500ml bottle Strange Bedfellows Rum and Single Malt Whisky blend
250ml of Black Cherry Cocktail Syrup from William Fox
100ml of Spiced orange bitters from Bitter Union  
Dried orange garnish. 
Creates minimum 6 serves.
The perfect gift for your whisky and rum lovers, or a special treat for yourself.
_______
More about Strange Bedfellows Rum and Whisky Blend...
The first to launch in our experimental spirit collection is Strange Bedfellows.

Experiment 001. Batch 001. 880 bottles.

Aptly named as this spirit brings together two different spirits inside the one bottle.

It all began with a curiosity of whether our Secret Society of Distillers could create a bespoke dark Rum to be the perfect bedfellow for a single cask of Single Malt Scotch Whisky.

The cask, No.652, was born in the Highlands and the Single Malt Scotch Whisky which lay inside it was light and creamy with notes of orange zest and fudge.

The distillers developed eighteen different Rums to match with the whisky, eventually selecting a dark ruby Rum with a base of Raspberries and Cinnamon.

The two spirits collided inside the small, hand filled bottling line on the outskirts of Glasgow and our inaugural experiment was complete.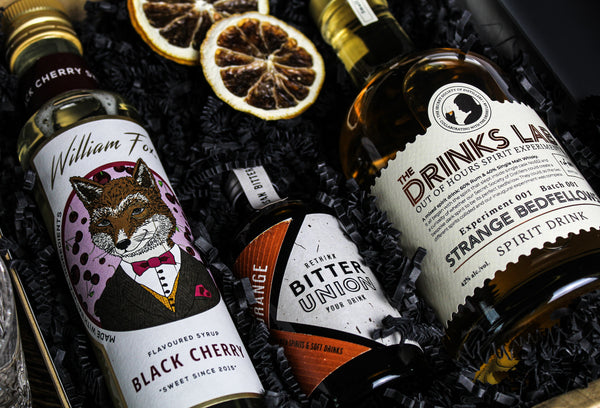 Looking for something extra to add to your gift box?
KEEP UP TO SPEED ON ALL THINGS INVERCLYDE GIN AND GIVE US A FOLLOW @INVERCLYDEGIN