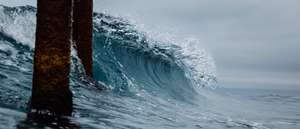 Our new exploratory, limited small batch series.

The high tide has washed ashore our Summer limited editions, but they won't be here forever. When the tide falls back, you get to decide which get washed away and which stay here for good on our Inverclyde coast...
The Idea
This new series is a way for our team to get creative with new styles, trends and innovative ideas. But with the changing tide, our new exploratory small batch runs will only be available for a limited period of time with only 200 bottles available of each - when they are gone, they are gone!
Get involved
We are all about getting our Inverclyde Gin steamers involved in every part of the Inverclyde Gin journey. Therefore through a mix of orders, votes and reviews you get to decide which of your favourite editions get to stay and which goes! When you get the chance to try, dont forget to leave your review!
What happens next
Once the winner is decided, our fantastic new addition will be taking from the Tidal series and gets their place in the core Inverclyde Gin crew alongside our Original Inverclyde Gin Coastal Edition and Port Strength with more batches to enjoy! Who knows what each tide will wash up...
Our Tidal Series Summer 2022 Line-Up
Explore what else we have to offer...
Remember to follow us on Instagram and tag us in your perfect serves @inverclydeGin